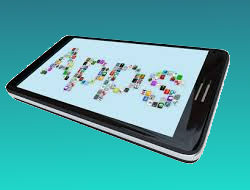 Apps – small programs or "application" that run on mobile devices.  Some people have made millions with them.  Certainly as a tool for business they are supreme – always in your customers' pocket.  Can be updated automatically without the user having to do anything.  Always display your current prices, special offers etc.
Typically apps cost many thousands of dollars to develop, but try us – you will be VERY pleasantly surprised!
We can turn your website into an app (a "WebApp, which although it's a cheaper solution it's not a "real" app)… or…
We  build REAL Apps for you – both Android and iOS.
With our current offering based on the fantastically popular "Learnistic™" framework you can run your business from the palm of your hand.  Learn about the framework here, and ask us about creating an App for you.
No $100,000 up front like most of this kind of quality App… Just a very moderate setup fee and small monthly payment gets you a "REAL" grown-up App!
Delay not – call us with voicemail now or use our contact form on this page.
Domains | Hosting | Domain Parking | Web Development (regular & Mobile Websites) | Mobile Apps | Other Web Stuff